Six and twelve month development processes
We know that change takes time and, at the same time, it need not do so when you do the right things in the right way. In six or twelve months you can come a long way in a development process when the purpose is clear and the methodology is well adjusted to the individual, group or situation. When we mix workshops with individual sessions, the results are clear and long lasting. Here is an example of a development process for a management team:

Clear, Confident & Credible - management team development based on personal values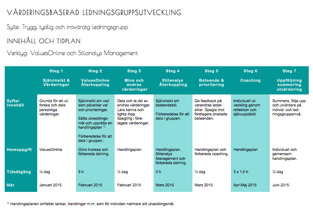 "It is when we get to know each other that we understand what we really mean".

Take your management team to the next level!

Here is an example of how a management team can improve its way of working together to become more confident, clear and credible, both within the team and out towards the remaining staff and other interested parties.
The process is a combination of workshop and individual coaching and builds on the fact that all the participants open up and share valuable information with one another. This kind of development process also has great effects on each and every one of the individuals in the group. In the example we work with two different mapping tools: ValuesOnline and PLUS Management Style Inventory.
Working with this kind of tool speeds up the process further.
Other assignments, which we have conducted under our own trademark or as supporting consultants
"Healthy success"- stress management and group development, an environmental group in the building trade
"Pedagogical supervisors", dentists and dental hygienists at Folktandvården in Stockholm
"Leading by Coaching", a rehabilitation home
"Authentic value-based leadership", local government politicians
"Dare to Lead", Skanska
"Leadership for newly become leaders", Skanska
"Adapt your Communication", a company in marketing research relations.